Recognizing all of life's moments with custom, hand-crafted awards.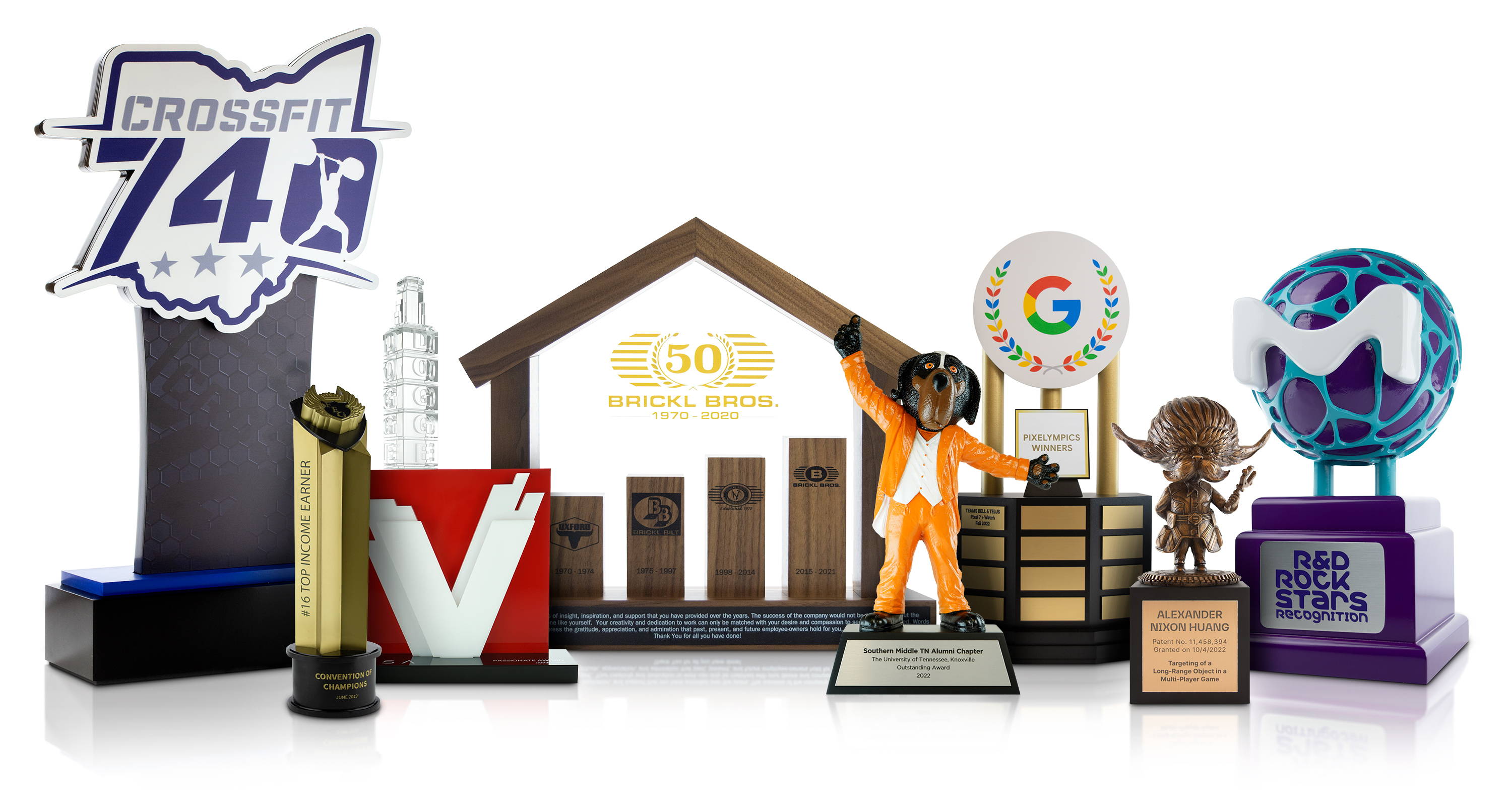 Whether it's a sales goal met, a sporting event, an employee of the month, peer to peer recognition, we at Visions create one-of-a-kind awards to fit any need.
You can better recognize the contributions and achievements of your employees with unique, personalized awards. Custom awards are our specialty, and we make it easy for you to turn your ideas into beautiful final products that your employees will treasure.

Choose anything from signage, desktop awards, milestone awards, plaques, and more!

We had the privilege to create custom cast resin awards for Howes Hall of Fame, as they recognize the best of the trucking and agricultural industries for their contributions. Each recipient is sure to remember the honor they received as the award brings the Howes logo to life.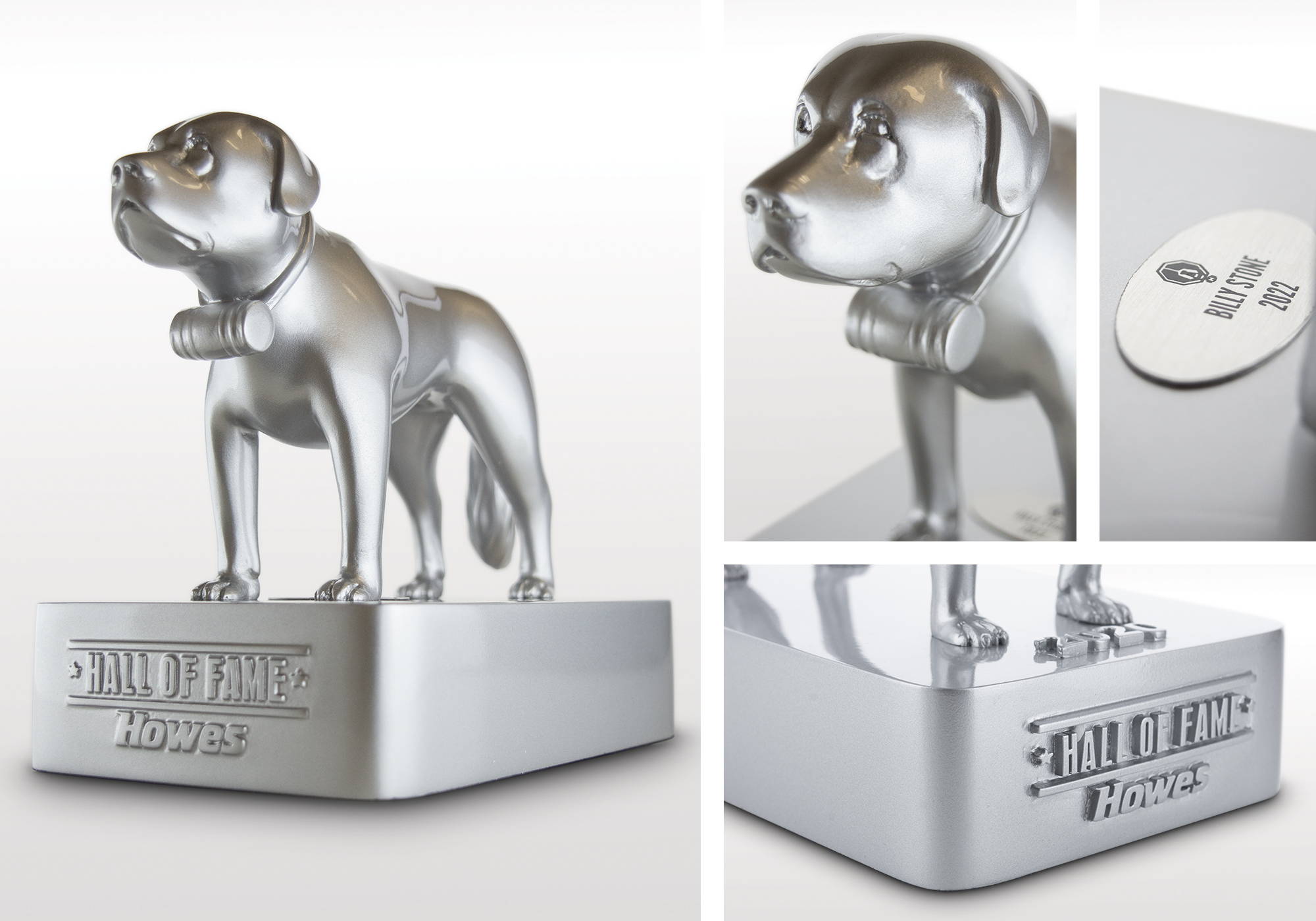 Visions partnered with distributor, Nadel, to create a unique award for their client, Riot Games, used to recognize their Rioter's accomplishments. This Patent Reward Program is a new executive-sponsored initiative at Riot in which Rioters, who contribute innovations that end up gaining patent approval, are recognized for their contributions. To top the Patent Reward Program trophy, Heimerdinger is an "Inventor", which makes him the perfect figure. The award includes metal plates engraved to represent Rioters, who over the past year, have earned this achievement and are recognized by Riot leadership.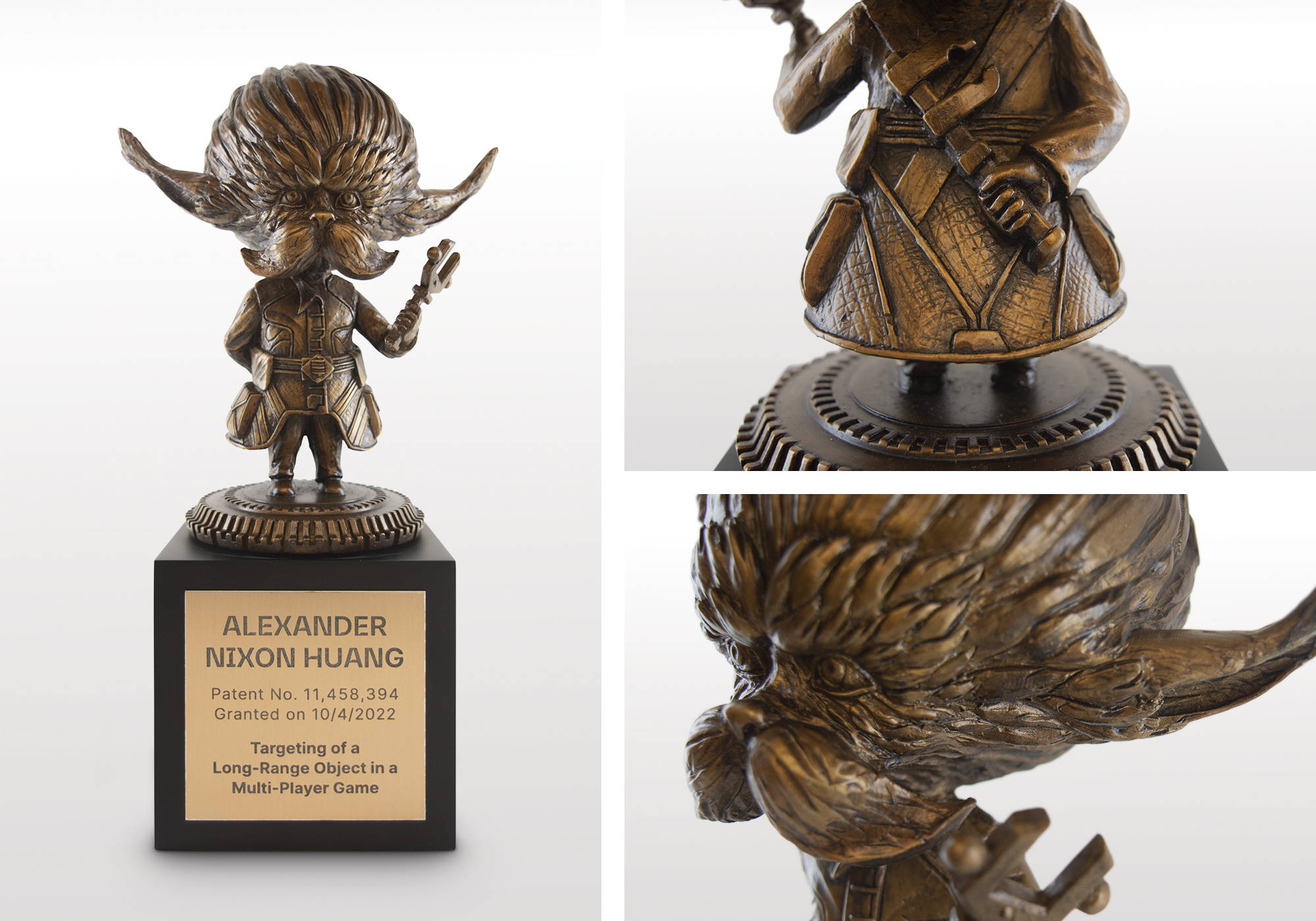 We partnered with PromoGirl, a creative distributor with a unique project for their client, National Auto Care, who wanted to recognize its agencies that went above and beyond in sales with truly unique custom awards, with an Egyptian-themed design. Our talented team of artists designed a pharaoh's bust, crafted in resin, to fit the theme perfectly and symbolized those who have led the way to success.
The hand-carved mold was hand-painted with radiating colors to match the brand and theme. The pharaoh was then fastened to a crafted, rectangular, black wood base, and measured nearly 13" wide, with the logo showcased in full color on the black aluminum plate.
Visions Awards received PPAI Silver Pyramid Award Winner in Supplier/Distributor and Casting/Molding!
George Wasai Commemorative

This custom award, commemorating 30 years of service, was designed using a combination of acrylic and brushed aluminum. Themed tickets were included in the award, designed to showcase the milestones achieved throughout the employee's career. Our custom team is ready to help you design your perfect custom award.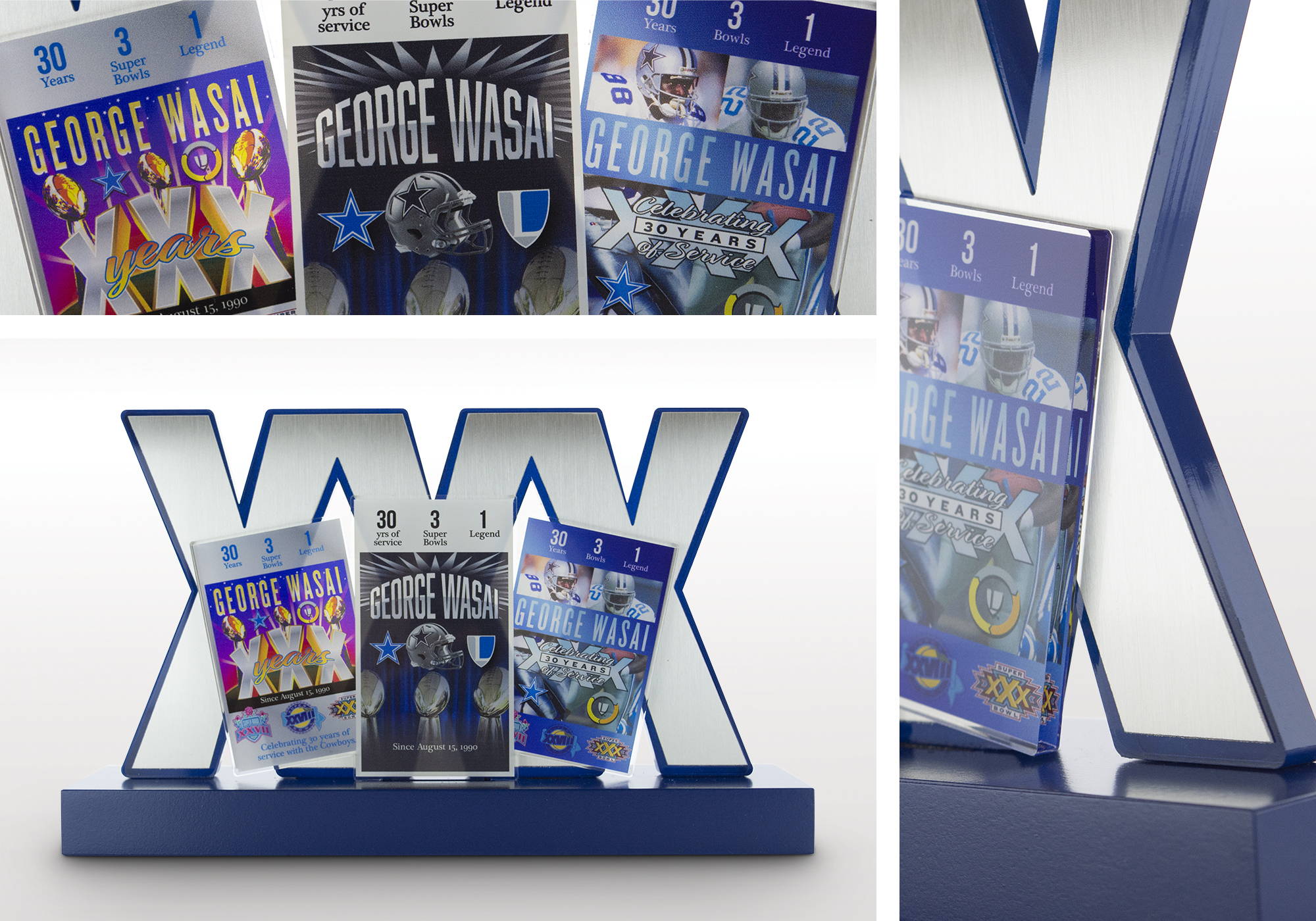 Coastal Restaurants & Bars

Visions enjoyed working with EYB Consultants, LLC to design the ideal wall signage for Coastal Restaurants and Bars. The goal of this project was to showcase both the logo and mission statements of the group, while creating an eye-catching display for them to hang in their restaurants. The finished products were crafted in Ohio, consisting of vibrant digital print on an array of precision-cut acrylic layers. Each layer was suspended from the backer, adding dimension and character, and each were assembled with high-end hardware. Work with our custom team to begin creating a new, one-of-a-kind signage piece!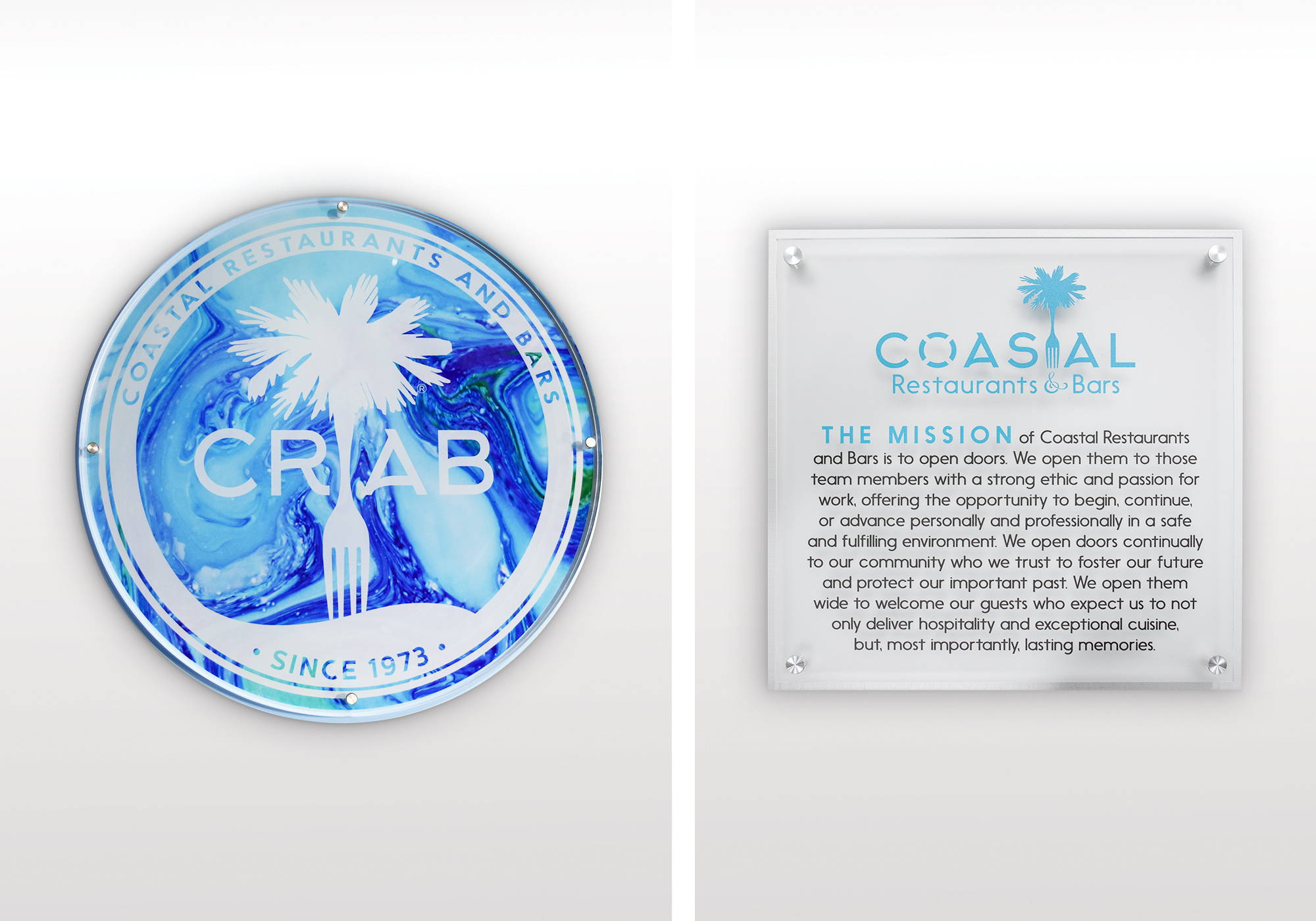 MLK Jr. Community Hospital

Visions' custom team enjoyed creating a unique award for an internal handwashing campaign for the MLK, Jr. Community Hospital. Utilizing their brand guidelines, we produced an award that was truly unique to the hospital. Every month, the award was awarded to the different departments who showed their support for the hand-washing campaign.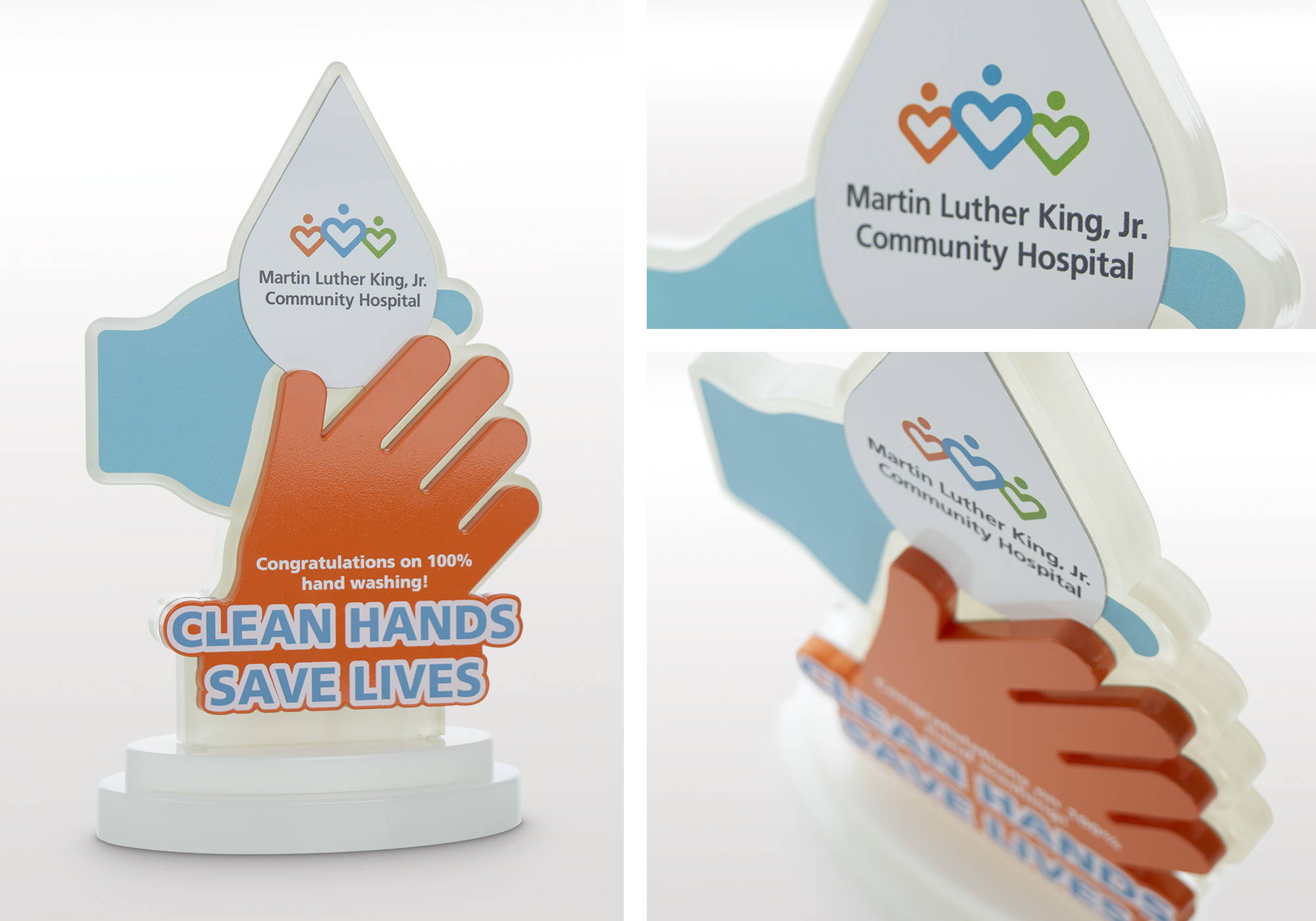 Visions was delighted to be selected by promotional products distributor, Safeguard, to handle a special request from DFW Movers & Erectors, their valued client for 14 years. The project was to create a commemorative plaque recognizing the Company's Founders. It had to be impressive, meaningful and incorporate their "Legacy of Excellence," which details the Company's history.
Visions' Custom Department designed the plaque to meet all their needs in terms of design, installation, and budget. A stunning 36" x 31" plaque featuring a brushed aluminum finish plaque, topped with two layers of acrylic set apart with metal spacers was created, with full color print.

Kind words from Safeco distributor:
"When it was unveiled, the entire room gasped. It was one of the best moments of my tenure."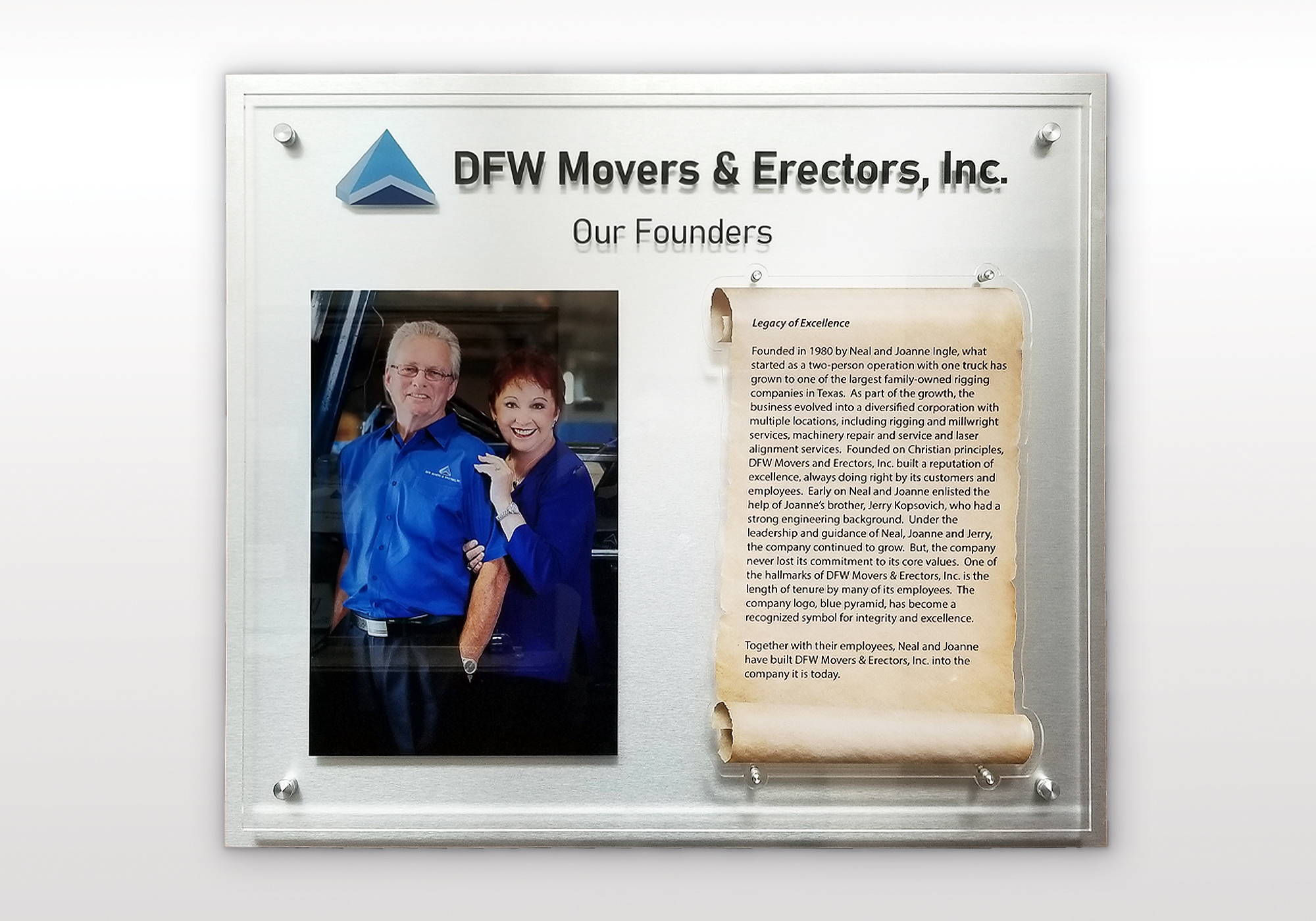 In collaboration with Bravo Branding, we had the opportunity to design a series of intricate hand-made awards to recognize the vendors of Torchy's Tacos. What initially came as a request for a perpetual plaque turned into a 4-piece custom award project for various levels of success within the company. The custom case study presented here stemmed from the idea to revamp Torchy's Tacos previous awards consisting of wood and acrylic, to a substantial redesign of molded optic crystal, black crystal, and layers of red and yellow crystal. After several revisions to get the design of the project "just right", this award was selected to be given to their Top Vendors across the nation.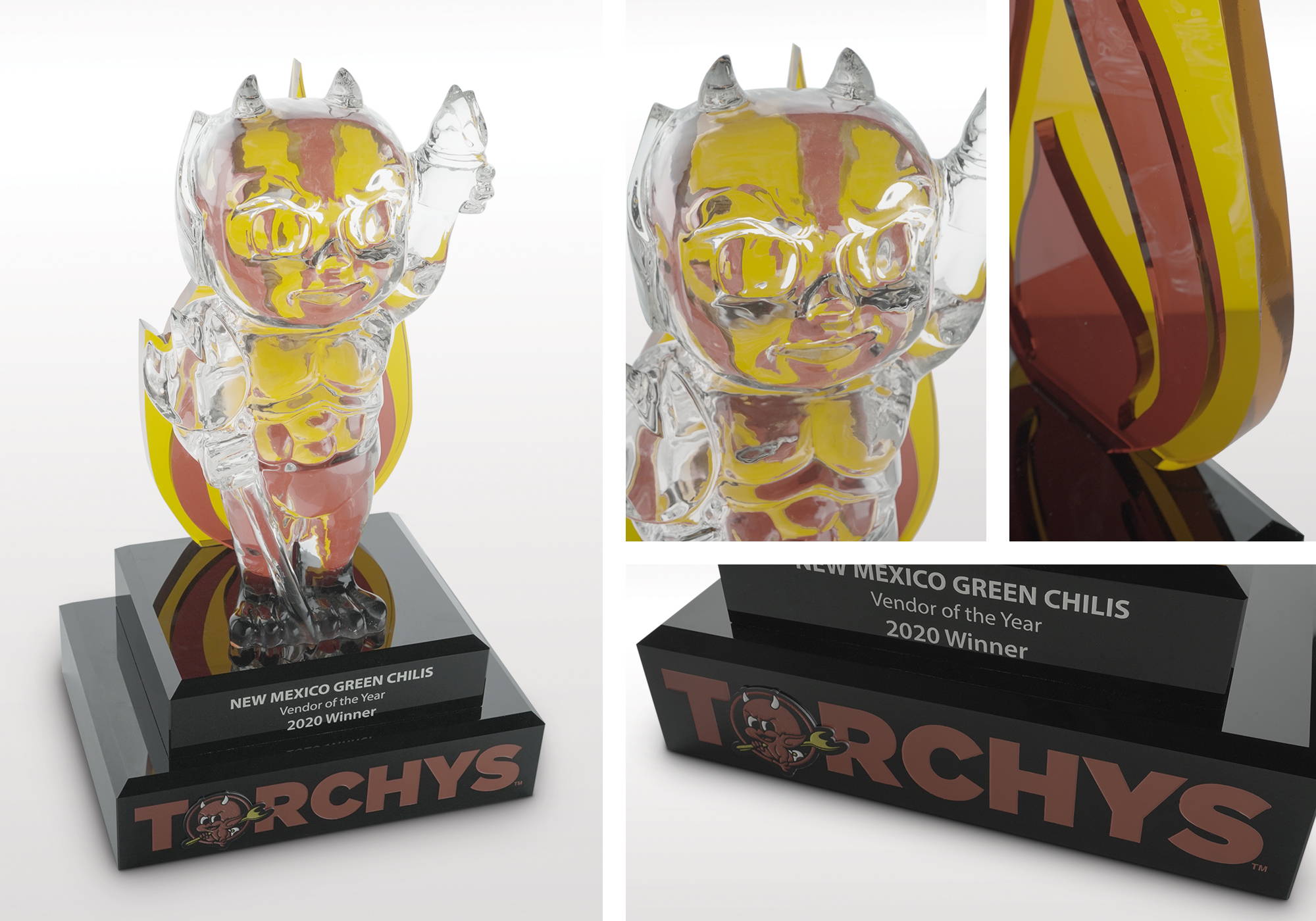 Merck, a science and technology company wanted to commemorate their brilliant team for their efforts in making a difference. Utilizing their style we presented them with an award that was truly unique to the company. When colleagues are recognized for their efforts, morale is boosted, and efficiency skyrockets. The best part of this award was the special message printed on the backplate that read " To the inspiring colleagues whose efforts make a meaningful difference in R&D, and ultimately for patients."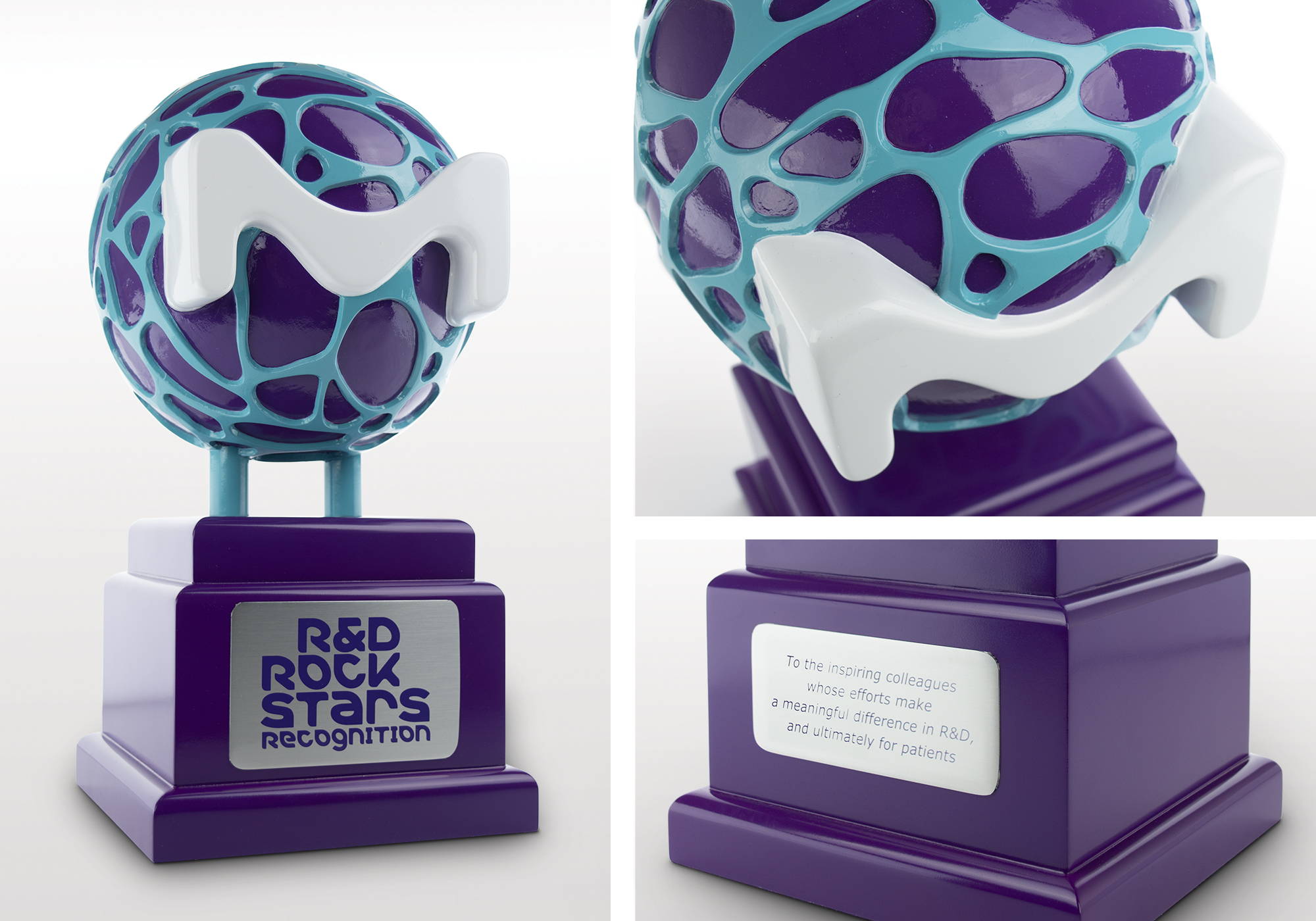 In collaboration with Fast Forward Marketing, we had the opportunity to bring their designs to life and create awards for the Inaugural NASCAR races held at the Nashville Superspeedway.
The trophy resembled one of downtown Nashville's glowing neon signs outside of their famous red brick live music venues. The worn wood track-shaped base has the look of the stage in these venues and brings together the theme of racing & live music. This USA Made award consists of a combination of materials including a wood upright enveloped in a full-color digital wrap atop a wood base. Acrylic and aluminum accents, with full-color digital print, also contribute to the sleek urban-styled award.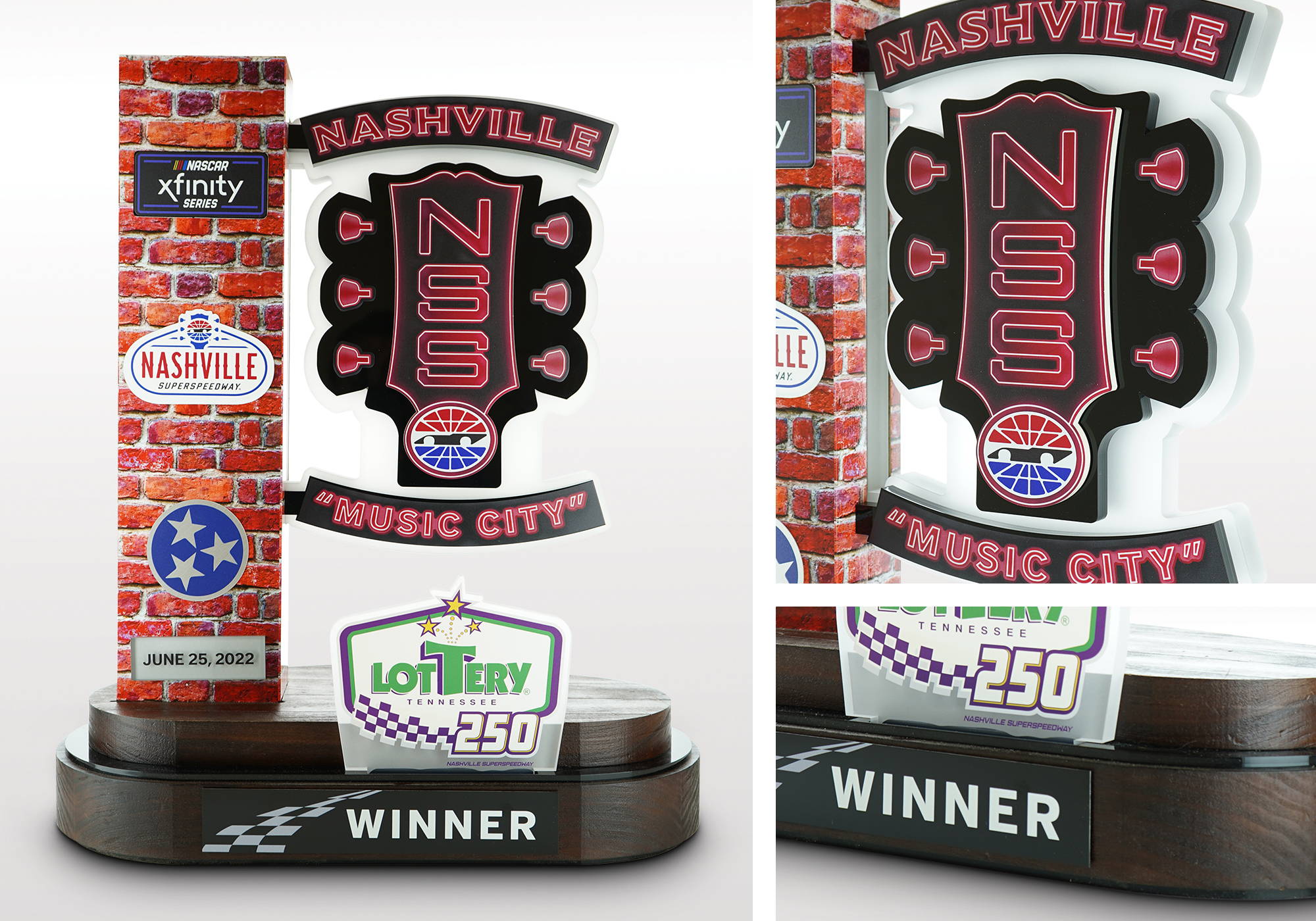 We make creating
custom awards easy.
They go the extra mile; return the favor by creating custom recognition that uniquely reflects their efforts. If you have an idea for a custom award, we are here to help you bring it to life. With Visions, creating your own custom awards has never been easier!
Provide us your thoughts, quantity, budget, and in hands date and our customer service team will contact you to discuss your project!
Based on the information provided, our design team will design 2D concepts to present the ideas and possibilities.
Once the conceptual design is approved, we'll proceed with a detailed 3D rendering and a quote to present to your customer.
Once the 3D rending is approved, we will process your order and have your hand-crafted awards delivered to you in time for your event or occasion.
We can design awards to fit nearly any budget and lead time.

Looking to go custom? We're looking forward to working with you! Please fill out the fields below and a customer service representative will reach out to you so we can begin.